What is the Georgia Legal Food Frenzy Competition?
Goodman McGuffey is participating in the 2021 Georgia Legal Food Frenzy Competition, a two-week fund drive competition in partnership with the Georgia Attorney General, the State Bar of Georgia, the Young Lawyers Division and the Georgia Food Bank Association. While nearly 63% of Georgia's public-school students are eligible for either a free or reduced breakfast or lunch each day, only 17% have access to the lunch program during the summer. The competition is timed to help the food banks move into summer prepared and well-stocked to meet the increased demand for food from working families.
The competition will run from April 19th to April 30th. Due to COVID-19, food donations will not be collected for the Legal Food Frenzy this year and fundraising will take place online. All funds raised will stay local and benefit the Atlanta Community Food Bank.
How Can You Help?
Each $1 donated provides enough food for 4 meals. This year, Georgians across the state are struggling with school and childcare closures, lost wages, and layoffs, and demand for food bank services has increased 30 to 40 percent since the onset of the COVID-19 pandemic. 1 in 5 kids in Georgia are food insecure and more people will need emergency food assistance because of COVID-19.
Even a $1.00 donation will make a difference!!! You can make a donation to our Goodman McGuffey Team Donation page HERE. You can also track the leaderboard at https://galegalfoodfrenzy.org/statewide-leaderboard/
If you have questions for team Goodman McGuffey, please feel free to contact associate Paul Spann or our Marketing Coordinator, Britton Farlow, for more information. Any donation helps, and we appreciate your support in these desperate times.
If you would like more information on how you can help or the competition itself, you can visit the Georgia Legal Food Frenzy website.
Stay well and stay safe!!!!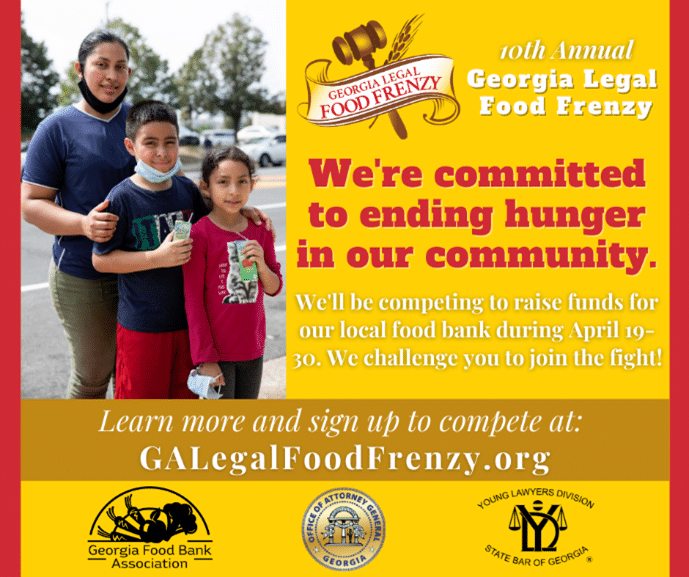 Featured In This Article: