Goodman McGuffey partner, Teri Zarrillo, will be speaking on the topic, "Workers' Comp & Sleepless Nights" at the virtual 2021 Spinal Updates Webinar with Peachtree Orthopedics and Peachtree Occupational Medicine. This webinar will take place next Friday, February 5th from 11:00 AM – 2:00 P.M., via Zoom. Teri will be joined by speakers Dr. Donald Langenbeck Jr., and Dr. Robert Owen from Peachtree Orthopedics.
Participants will receive 3 GA CEU Credits and will be entered to win gift cards + gift baskets giveaways!
Please RSVP to Kim Ledet at KLedet@pocatlanta.com  to receive your registration link. Feel free to contact our marketing coordinator at BFarlow@GM-LLP.com with any questions.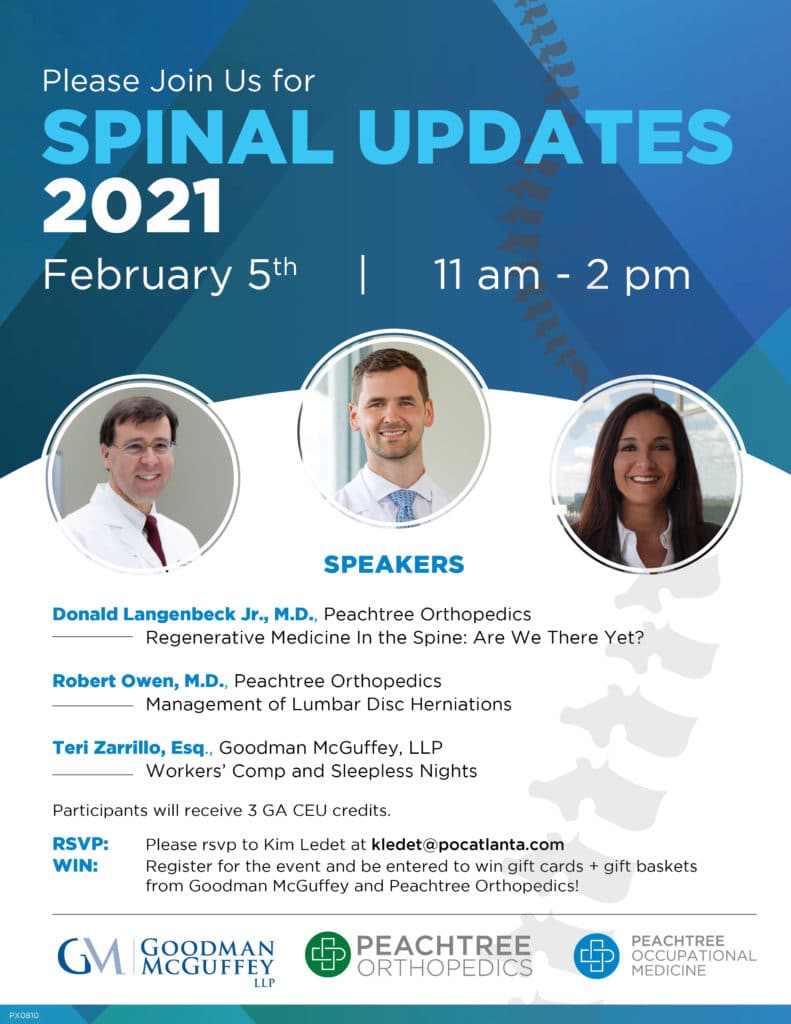 Teri Zarrillo is a partner in Goodman McGuffey LLP, and primarily represents self-insured and commercially insured employers in workers' compensation matters. Teri was admitted to the State Bar of Georgia and The Florida Bar in 1993.  She earned both her undergraduate and graduate degrees from Emory University (B.A. in 1990 and J.D. in 1993).  Teri serves on the Board of the Workers' Compensation Section of the Atlanta Bar Association, and the Board of the Atlanta Claims Association, where she was Education Chairperson from 2012-2015 and currently serves as the Sponsor Liaison Chairperson.  She also is an active member of the Atlanta Lawyers Club, CLM, and RIMS.
For more information about Workers' Comp or Goodman McGuffey, please contact Teri Zarrillo at tzarrillo@gm-llp.com or 404.926.4109.
Featured In This Article: